A weekend under the sign of "Glisse en Coeur"... despite everything!
Updated on 03/29/2021.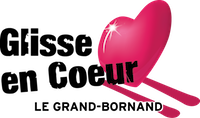 All the goodwill in the world and the efforts made since March 2020 and the announcement of the postponement of the 13th edition of Glisse en Coeur, will not have been enough to allow the maintenance of the charity event No. 1 of the French mountain in Grand-Bornand this weekend of 19, 20 and 21 March.

This new postponement to March 2022, "a hard blow for the organization team and the associations MeeO (for Mon école extra-Ordinaire) and Aïna, the supervisory teams and the children who are going through very difficult times", according to Isabelle Pochat-Cottilloux, director of the Grand-Bornand Tourist Office, organizer of the event, will nevertheless have left room, on this highly symbolic weekend for Glisse en Coeur, for moments of great hope for the continuation of the adventure.

Thus, on Friday, two checks of 85 881 euros and 74 162 euros were offered to MeeO by the respective teams of the companies Benedetti-Guelpa and Priams, among the main partners and supporters of the operation. For a total of more than 275,000 euros already collected, which is half of the 500,000 euros objective hoped for at the end of this 13th edition of Glisse en Coeur.

For this occasion, the children and staff of MeeO had concocted a nice surprise with a touching THANK YOU in song and music.