Family and children
LE GRAND-BORNAND HAS BEEN AWARDED THE "FAMILLE PLUS MONTAGNE" LABEL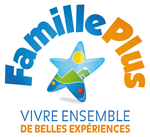 This is a premier and unique tourist label, which recognizes towns that offer:
- Family friendly facilities
- Activities for all ages
- A range of prices for all ages
- Activities for big and small, to be enjoyed separately or together
- Convenient shops and service
- Professionals who cater to the kids' needs

In accordance with the label, this brochure provides you with all of the information concerning lodging with Famille Plus (Family Plus) certification day care and the Recreation Center as well as activities reserved for children or families and supervised by professionals.

Le Grand-Bornand also offers:
- Playground equipment in the heart of the village
- A reading room accessible to families at the Tourist Office of Chinaillon
- Infrastructure aimed at impro- ving the traffic at the resort: sidewalks, strol- ler-accessible ramps, pedestrian routes and a pedestrian zone such as the Recreation Area and the Fitness Trail.
- A Baby's Corner in the Tourist Office of Le Grand-Bornand Village with changing table and children toilet.
- A Baby's Corner in the Tourist Office of Le Grand-Bornand Chinaillon with a changing table and microwave.
- A special welcome desk reserved for families, open on the Saturdays of school vacations
- A detailed program listing activities is available each week at the Tourism Office. It includes alternative activities in the event of bad weather.
For a stay well prepared, consider booking your services!
Happy or unhappy: please give us your comments and suggestions for a better host families in mountain resorts, please contact us at:
suggestions@familleplusmontagne.com
!

or click on the banner below to give you opinion.