Le Grand-Bornand Sustainable Face with Georges Missilier
GEORGES MISSILLIER
montagnard bornandin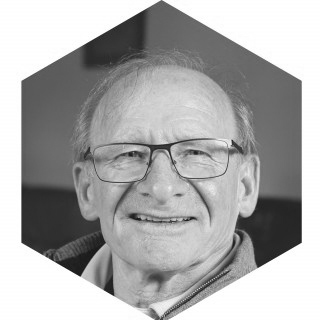 THE PERMANENCE OF THE FRAMEWORK, SOURCE OF A POSSIBLE RETURN TO THE "ESPRIT DE CORDÉE"?
Isn't it said that the mountain is a very good school for adaptation? To the question of what the mountain evokes, in my opinion, I would answer first of all the bonds forged during an ascent, a snow class or a Nordic hike... I also see the mountain as a school of life, at a time when the evolution of things is shaking us up: globalization, the influence of computers and social networks... so many upheavals that we are running after, without taking the necessary time to understand them. We have never had so many means at our disposal, but calm and serenity are no longer the order of the day. This leap forward does not seem to bring more warmth in human relations. So, I often say to myself: how lucky we are, in Grand-Bornand, to have been pampered by Mother Nature.

Who can imagine, by simply standing in front of the bell tower with the Aravis mountain range as a backdrop, the number of travelers passing through our valley, who are still regularly surprised by this vision? Do they only realize that we benefit, free of charge, from a panoramic screen permanently updated? At the first glance as at the hundredth, this chain never leaves us indifferent. We remain most of the time admiring in front of the harmony of the ridge line, in front of the balance of the different levels - meadows, forests, alpine level... - and in front of the varied shape of its valleys; the stamp of our village, the barrier of our horizon, whose lines change according to the light and the season. These moments alone, these times of observation, do they not constitute, in the end and to their degree, as many "sustainable slopes"? And the attraction of the mountain, its eternal magic, the source of a possible return to the essential: this saving "rope spirit" that is missing in today's world?